Confectionery
All our products are made from virgin fibre-based raw materials; our Cardboard and Paper products are 100% suitable for food contact. Our cardboard and paper specifications are very strict to ensure maximum quality and stiffness for our products.
Cake boxes and liners
A wide range to cover all the confectioner's needs.
Proven cake boxes that enable your creations to be transported safely.
Vigilance to obtain a quality of cardboard that is constant and beyond reproach for:
excellent box stiffness and product holding without distortion of the box
cold storage without humidity absorption by the cardboard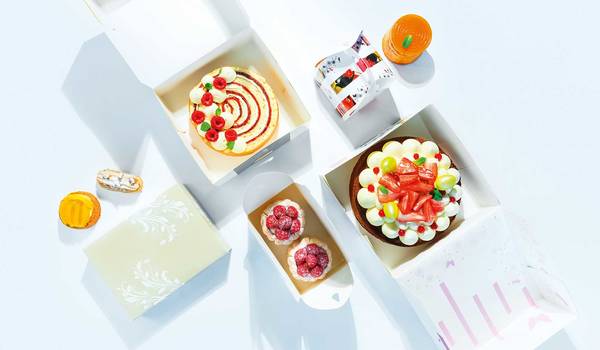 Macaroon packaging
Here are some dedicated boxes for showing off your macaroons at their best and making them suitable to be presented as gifts.
Kraft board box
capacity 12 or 16 macaroons
mat Kraft appearance
Black case
capacity 8 macaroons
supplied complete with separators
Alaska paper
45gr/m² bleached Kraft paper outer packaging. Ideal for presentation packets.
Universal printed version
White version
In various formats of sheets or spools
Holders
A range of white and gold holders, in a wide range of sizes to satisfy various requirements.
White holders
Squares with folding lines: ideal for presentation packets and snacking products
Scalloped round cake boards: ideal for tarts and deserts
Grease resistant round cake boards: to resist grease and humidity
Gold holders
Round cake boards: show off your cakes to advantage thanks to their finish
Square cake boards and sheets: optimise your square and rectangular creations
Mini holder: for individual cakes
Scalloped trays: ideal for petits fours and desert miniatures
Scalloped round cake boards with tangs: elegant for showing off your products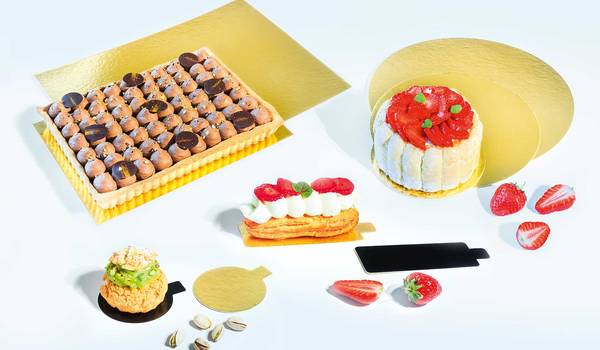 Corrugated cake cups
Essential to improve cake handling and hygiene.
Grease resistant
Available in a wide range of sizes
Show off your cakes in your display cases
Available in WHITE, CLASSIC and BROWN.
Festis Events
A whole range of packaging is available for the various festive moments of the year : Christmas, Epiphany, Easter, Ramadan …
For Christmas, boxes with essential qualities for this strong period of activity
Rigidity
Resistance at humidity for a cold storage
Reserves of varnish for marking
In complement a whole range of complementary products : golden holders…
For kings and queens, our bags and crowns will delight the gourmands. All our bags and crowns are made from paper and cardboard in pure wood pulp, and capable of the food contact.
Our boxes with window on 3 faces and golden holders allow a wide visibility for your chocolate products of Easter.
Finally find a wide of range of pastry boxes to cover the various events of the year.