Confectionery
All our products are made from virgin fibre-based raw materials; our Cardboard and Paper products are 100% suitable for food contact. Our cardboard and paper specifications are very strict to ensure maximum quality and stiffness for our products.
Cake boxes and liners
A wide range to cover all the confectioner's needs.
Proven cake boxes that enable your creations to be transported safely.
Vigilance to obtain a quality of cardboard that is constant and beyond reproach for:
excellent box stiffness and product holding without distortion of the box

cold storage without humidity absorption by the cardboard
Holders
A range of white and gold holders, in a wide range of sizes to satisfy various requirements.
White holders
Squares with folding lines: ideal for presentation packets and snacking products

Scalloped round cake boards: ideal for tarts and deserts

Grease resistant round cake boards: to resist grease and humidity
Gold holders
Round cake boards: show off your cakes to advantage thanks to their finish

Square cake boards and sheets: optimise your square and rectangular creations

Mini holder: for individual cakes

Scalloped trays: ideal for petits fours and desert miniatures

Scalloped round cake boards with tangs: elegant for showing off your products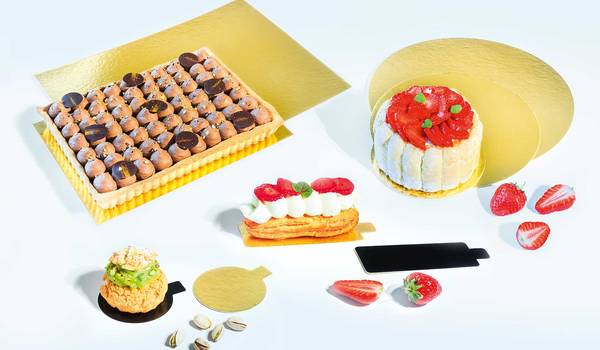 Corrugated cake cups
Essential to improve cake handling and hygiene.
Grease resistant

Available in a wide range of sizes

Show off your cakes in your display cases
Available in WHITE, CLASSIC and BROWN.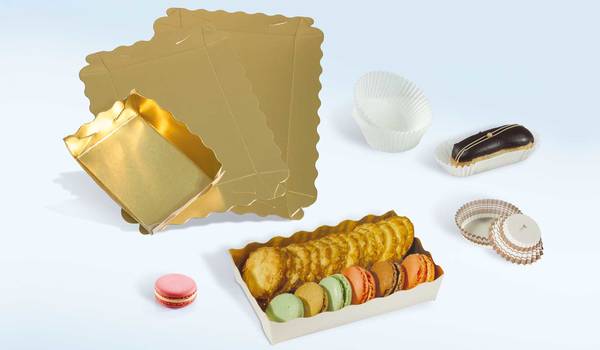 Alaska paper
45gr/m² bleached Kraft paper outer packaging. Ideal for presentation packets.
Universal printed version

White version

In various formats of sheets or spools